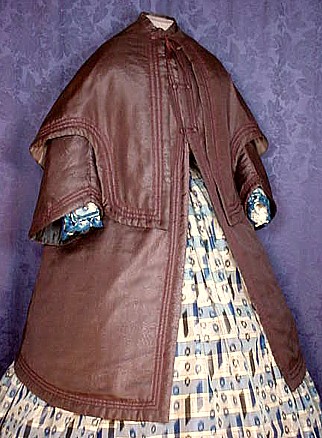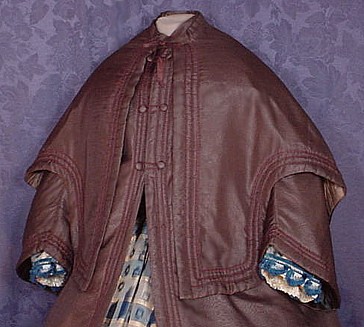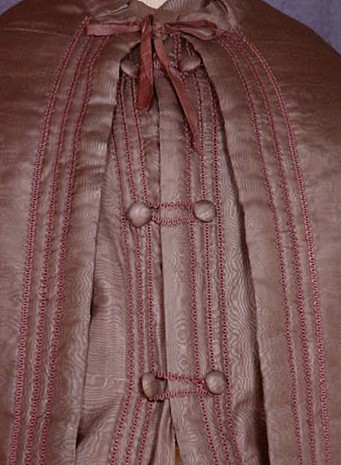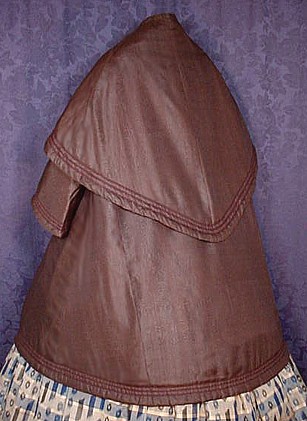 A sublime original Civil War era lady's rich dark chocolate brown moire' silk taffeta coat with a matching separate cape. Lined in a tan polished cotton, faced in a black silk taffeta, and wadded in a medium weight for warmth. Fitted flared pagoda sleeves, and a full length front hook and eye closure with three pairs of self fabric buttons and corded gimp loop closures at the bodice. Trimmed in three bordered rows of a fine complimenting gimp. The cape has identical trim, lining, facing and wadding, with a ribbon tie closure at the neck.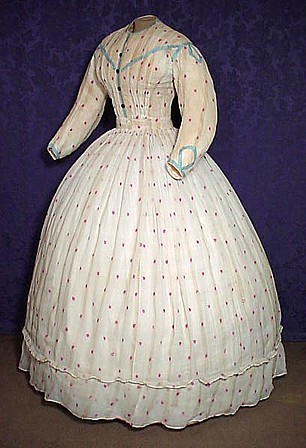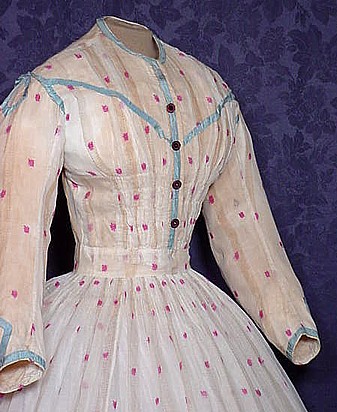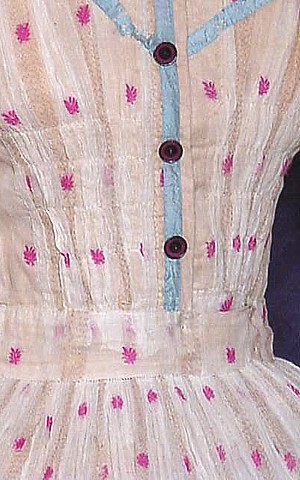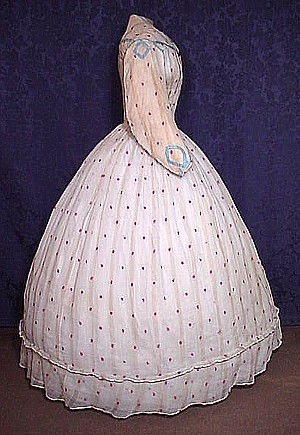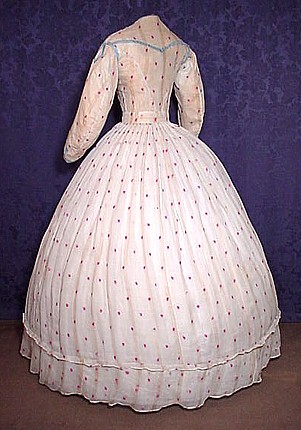 A lovely original Civil War era lady's sheer white muslin one piece dress embroidered with rich pink silk sprigs. The muslin has soft tan striped vertical patterns to it. The lined bodice is ruched at the lower front, with a V back construction, drop shoulder seams to the lined coak sleeves, and a wide waistband. Trimmed in a pretty robin's egg blue silk ribbon, with a hidden hook and eye front closure and four of five original accent buttons. A fully cartridge pleated waistband to the full unlined skirt, with a bias cut flounced hem and a twill tape floor brush to the under hem. A 34" bust and 24" waist.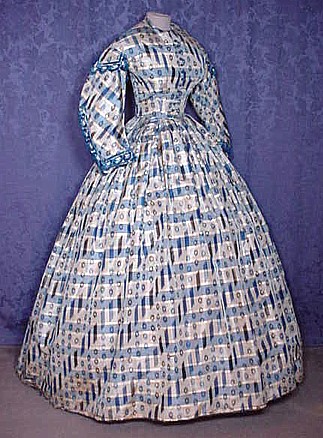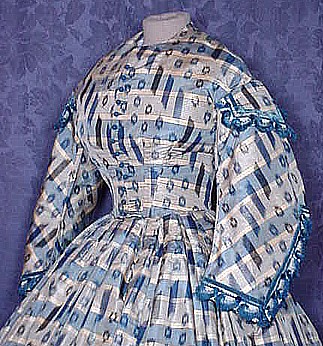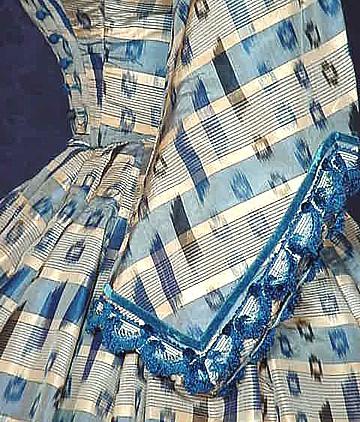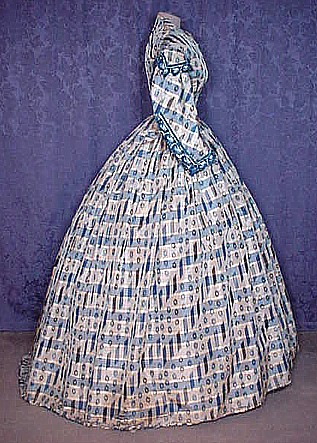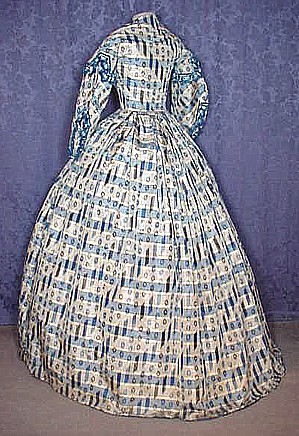 Lined and stayed bodice has a two dart front and V back construction, is piped at the neckline, drop shoulder seams of the capped coat sleeves and at the double box pleated waistband. Twelve crocheted ball buttons at the front closure. Trimmed on the sleeves with velvet bands and fringed silk embroidered gimp. The lined skirt has a twill tape floor brush to the hem, and a side of front hook and eye closure. A 34" bust and 23" waist.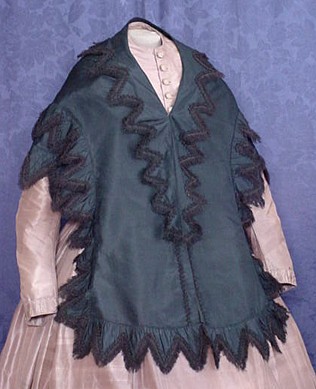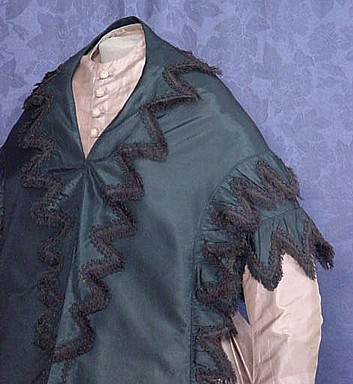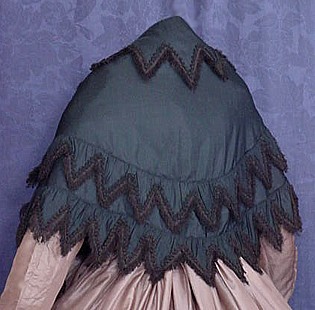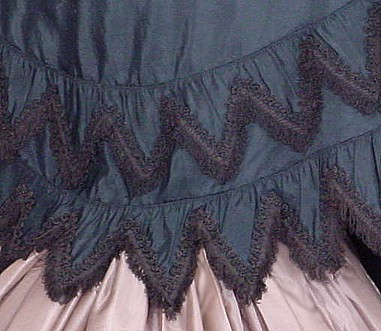 A pretty original circa 1850's lady's black silk taffeta fichu style mantle with tails at the front. Curved seam construction, darted at the neckline and shoulders, a turned collar, and a loop fringed gimp van dyked and ruffled trim.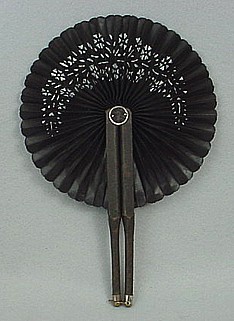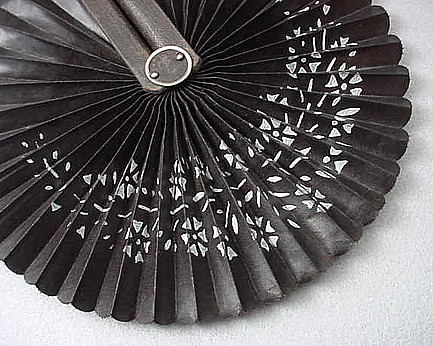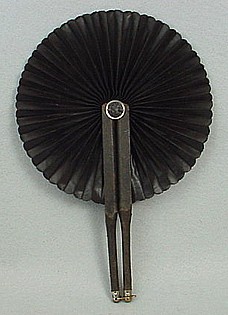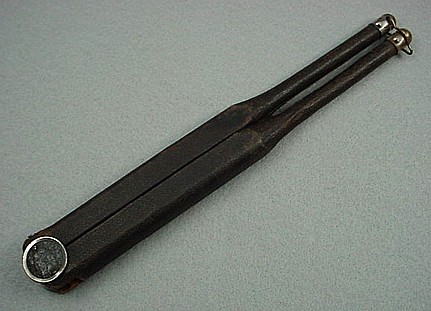 Beautiful stenciled fan.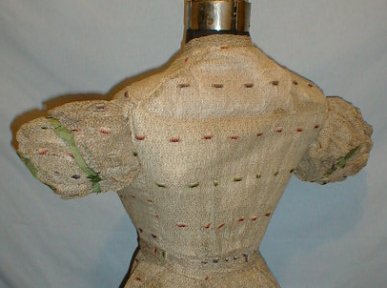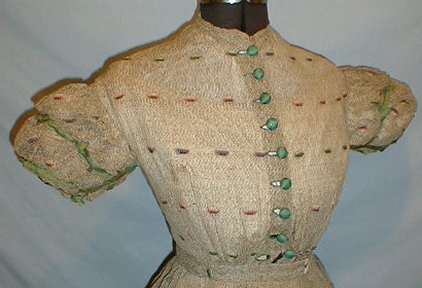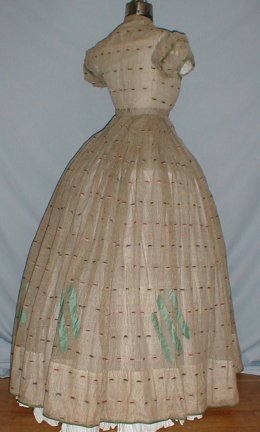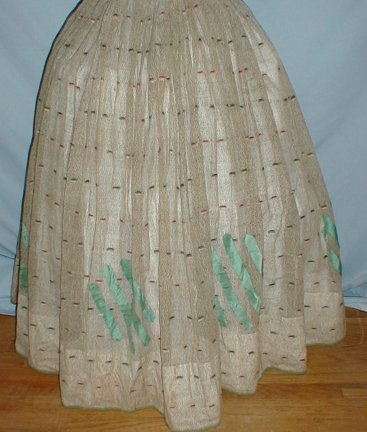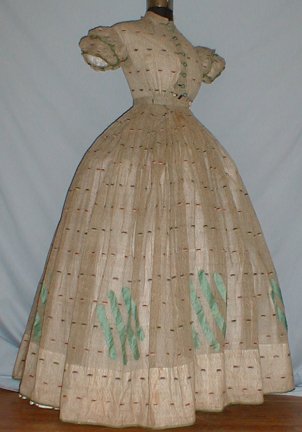 Young Lady's sheer dress
This is made of printed muslin and has both machine and hand stitching. The back round color is beige with a tiny brown fleck running through it. There are green and red embroidered pattern throughout. The gown is being displayed over a white petticoat and the neckline is lined with tissue paper for display purposes. There is no color variation. The bodice has short puffed sleeves that are trimmed with green silk ribbon. The armscye is piped. The bodice is lined with a linen camisole and has front waist boning. The camisole closes up the front with hooks and eyes. The front of the bodice closes up with green silk buttons. The full skirt is attached to the waist with deep pleating. The skirt is encircled with bands of green silk that are laid on the diagonal. The skirt is unlined except for a wide band of polished cotton at the hem line. Bust 32 inches Waist 24 inches Length of skirt 42 inches.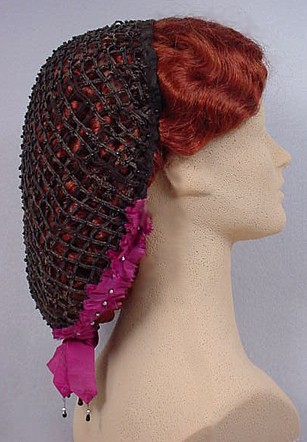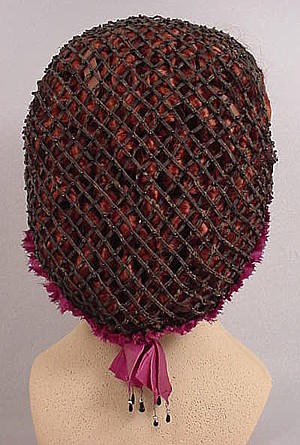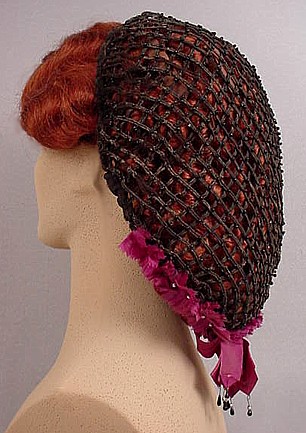 Note: This hairnet appears to be upside down.
A very rare original Civil War era lady's black cord net for the hair. Made up of a cording that was hand sewn into an open diamond pattern and accented at the intersections with black glass seed beads. A black cloth bound edge and a royal purple vandyked edge pleated ruffle along the bottom drape that is adorned with silver glass beads and with wired beaded dangles at the back bow.
More originals...
Most of the pictures on this page are from eBay unless otherwise noted.